Community Safety
Ambulance
Information on Ambulance Service in Stewart.
Stewart Health Centre
​Information regarding the Health Centre's medical services
Emergency Preparedness
Information on floods, tsunamis, earthquakes and emergency notification.
Fire & Emergency Services
The primary mission is to protect the lives and property of the citizens of Stewart from the adverse effects of fires, sudden medical emergencies or exposures to dangerous conditions created by man or nature.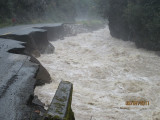 Flood Mitigation & Preparedness
See information regarding recent reports about Flood Mitigation and a link to the Floodready site.
Sanitary Sewer
Property owners and residents are responsible for cleaning, maintaining and repairing their waste water plumbing and building sewers up to the property line.
Snow Removal
During the snow and ice conditions the District of Stewart works extra hard to maintain a safe town for residents and visitors.
Snow & Winter Safety
Stewart is one of the snowiest towns in Canada. Over a typical winter, on average 572 cm (18.75 feet) of snow lands in Stewart.
Street Sweeping & Dust Control
Street sweeping commences in May weather permitting.
Water Conservation
This page is dedicated to the Water Conservation Initiatives of the District of Stewart
Citizen Engagement: Water
Online reporting of a drinking water concern